November 8, 2021
Shelter City outdoor exhibition travels across the Netherlands
The travelling Shelter City outdoor exhibition continues its journey throughout the Netherlands. After Zwolle, Tilburg and Utrecht, you can now find it in Maastricht and next year in The Hague.
The idea behind the Shelter City outdoor exhibition came from students of Windesheim Honours College and other partners of Shelter City Zwolle. Together with the students and Shelter City Zwolle's coordinator and Justice & Peace Netherlands, the exhibition was realized.
The outdoor exhibition features the portraits of six human rights defenders who previously stayed in Shelter City in the Netherlands. Their work range from LGBTIQ+ rights in Nigeria and Zimbabwe, enforced disappearences in Mexico, civil rights in Thailand, the rights of wrongfully detained prisoners in Pakistan, and the freedom of press in Honduras.
The portraits were made by Dutch photographer Daniella van Bergen, who is committed to amplifying the voices and the stories of human rights defenders.
In May 2021, the exhibition opened for the first time in Zwolle. The opening ceremony was held online and saw the participation of the Dutch Human Rights Ambassador, Bahia Tahzib-Lie, and two Shelter City guests, David and Sohail, who shared their story.
In September, the exhibition moved to Shelter City Tilburg at the Burgemeester Stekelenburgplein in front of Tilburg's central station. In October, it was on display at the Domplein in Utrecht to celebrate five years of Shelter City Utrecht.
From 2nd to 22nd November it can be visited in Shelter City Maastricht at the Stationsstraat and in April 2022 it will be on display in The Hague to celebrate ten years of Shelter City and Shelter City The Hague.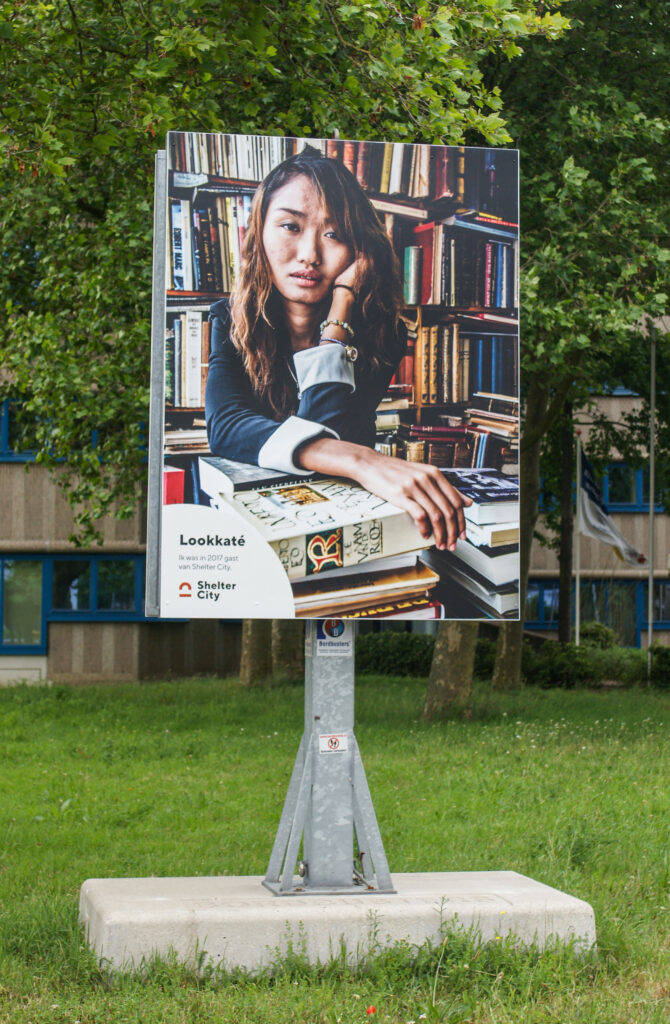 Portrait of Lokkaté, Thai human rights defender, in Shelter City Zwolle