May 6, 2020
David Gómez Gamboa shares his experience of the limitations to academic freedom in Venezuela
David Gómez Gamboa is a Venezuelan university professor and human rights defender fighting for academic freedom and university autonomy. He shared with us his experience of starting his own non-profit organization called Aula Abierta, denouncing violations to human rights and academic freedom in Latin America and his relocation to Shelter City Utrecht.
The situation in Venezuela
In 2013 Nicolás Maduro became the president of Venezuela, leading to a worsening of the human rights situation in the country. His rise to power caused unrest and consequent repression by the police and the same happened later in 2017. According to the Office of the High Commissioner for Human Rights at the United Nations, the violations and abuses commited against anti-governments protesters are part of a larger policy to repress political dissent and instil fear in the population.
David shared that he started to notice changes even within his everyday life as a university professor. Due to the extensive budget cuts on education, teaching became more difficult. Moreover, the possibilities to carry out independent research decreased, policemen were entering the university buildings and students protests were criminalised, with David's students being victims of torture, cruel treatement and arbitrary detention.
"It made me decide to organise a group of professors and students in order to register and document all the human rights violations that were going on"
David's human rights work
With the increase of human rights violations in Venezuela and its universities, David decided to take action.
He first started a broadcast radio programme at the university. This show offered professors and students the opportunity to speak up and discuss the human rights situation in Venezuela.
Then, David decided to form his own non-profit organization called Aula Abierta with the aim of reporting violations of academic freedom and raising awareness on the issue, especially by informing human rights bodies.
In 2017 David managed to participate in a hearing of the Inter-American Commission on Human Rights. After that, he took part in many more hearings, including one at the United Nations, where he spoke on behalf of many professors, researchers and students whose human rights had been violated.
The increasing limitations to academic freedom are not only experienced in Venezuela. David expanded his work to other countries in Latin America such as in Nicaragua, Bolivia, Brazil, Colombia and Mexico.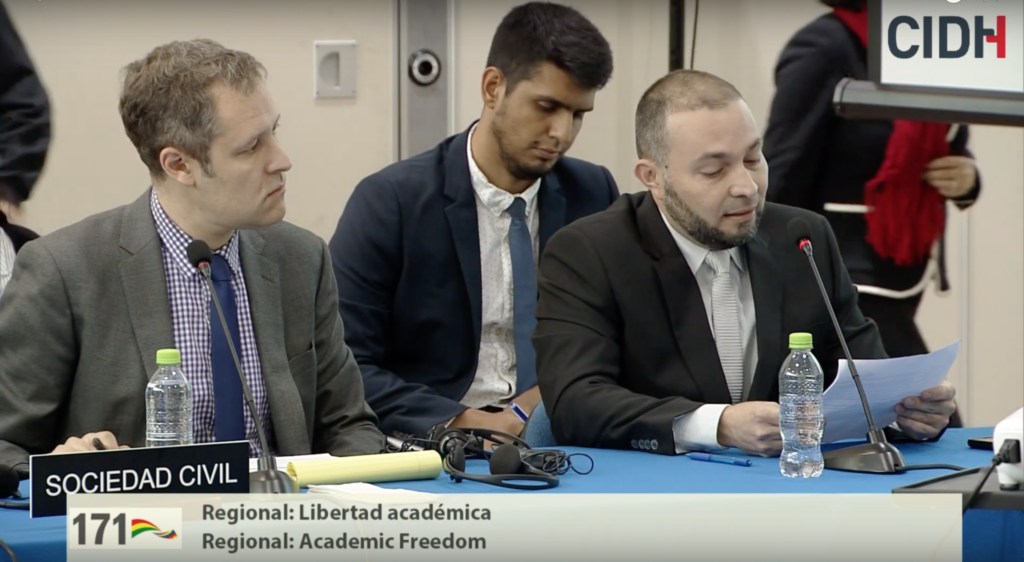 The importance of academic freedom
David explained that universities stimulate critical thinking and inspire critical debates. This is a threat to authoritarian regimes that want instead to control their citizens.
Moreover, governments often question scientific knowledge, which is indeed a vital element of university research. David explained that scientific knowledge is important in many ways; from understanding history, the environment, political systems, economic development to developing a COVID-19 vaccine.
David shared that the Venezuelan government stopped publishing education statistics in 2014. However, he argued that due to the situation in the country, nearly half of the teachers and more than half of the students have left Venezuela. This loss of human capital makes it impossible to cope with the current economic, political and humanitarian crisis.
David noticed that the COVID-19 outbreak has made the risks of violations to academic freedom visible, increasing the attention to this important issue. David reported the story of Freddy Pachano, a medicine professor at the University of Zulia who expressed his concern on the virus and wanted to carry out further research on it. The governor of the Zulia State publicly threatened Pachano to have him be detained under the claim that he is a threat to national security.
David also shared that engineering professors cannot do research and publish information on the power failures in the country as this would show the government in a bad light. Maracaibo, the second biggest city in Venezuela where David comes from, currently suffers from power cuts for 15 or 16 hours a day.
According to David, it is very worrying that these experts are silenced, as their concerns involve the safety of millions of people.
"An attack to the academic freedom means an attack on democracy itself. The consequence of this attack is the undermining of the development of societies."
David's stay in Shelter City
David had to face threats, his organization's website being hackered, the tracking of Aula Abierta's employees by the secret services and the challenging humanitarian situation in Venezuela.
He decided to take the opportunity offered by Shelter City and he relocated to Shelter City Utrecht. Here he continues working as the director of Aula Abierta while resting, receiveing training on digital, physical and organisational security and participating in awareness-raising and lobbying activities.
Even during his time in Utrecht, David keeps figthing to raise awareness on the importance of academic freedom and to have universities recognised as vulnerable institutions in need of additional protection. Universities should be a safe space where to develop scientific knowledge.
"Every person working at Shelter City has been very kind to me. They take care of even the smallest details to support me and to make me feel welcome"