24 Aug 2023
Gain firsthand insight into human rights in El Salvador through film and discussion in Utrecht
Shelter City Utrecht partners Peace Brigades International – Nederland invites you to an insightful evening on Thursday, August 24, 2023 at the Bibliotheek Neude in Utrecht. Gain firsthand experiences of a human rights defender in El Salvador from current Shelter City Utrecht guest and Salvadorean journalist, María Luz Nóchez, and delve into the human rights situation in the country through film and discussion.
María, who is part of the team at El Faro, will discuss the obstacles faced by journalists who seek to uncover the truth and share her non-victimizing approach to storytelling and the need to contextualize human rights violations in order to expose the root causes and widespread impunity. María's work has been instrumental in driving legal and societal change, such as reform in the court system and the abolition of child marriage in the country, making her a beacon of hope and resilience.
The documentary "Fly So Far" by filmmaker Celina Escher which tells the story of Teodora Vázquez from El Salvador will also be screened during the event.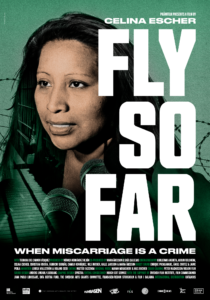 When Teodora Vázquez wakes up at the hospital, her nightmare begins: after a miscarriage, she is accused of killing her baby – and charged with aggravated murder. FLY SO FAR follows Vázquez, the spokesperson for The Seventeen, a group of women who share the same fate. They all live in El Salvador, a country that criminalizes all terminated pregnancies, even miscarriages. Vázquez's case has become a symbol of the cruel harshness with which El Salvador cracks down on affected women. But it is also a film about empowerment, resilience and solidarity.
Date: Thursday, August 24
Doors open: 19:15
Time: 19:30 – 21:30
Location: Bibliotheek Neude, Utrecht (Neude 11)